MAUI - Mystic 'ULU, Fern Medicine, Mū Culture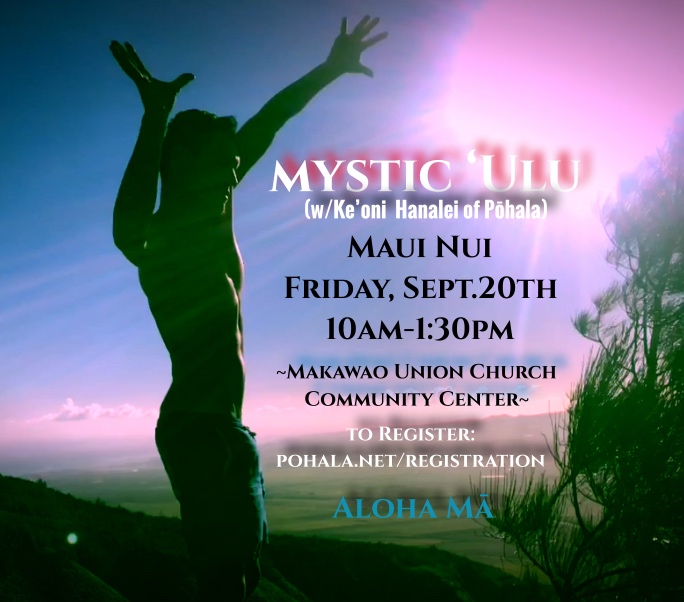 MAUI - Mystic 'ULU, Fern Medicine, Mū Culture
Many are feeling this immense shift the human collective is currently experiencing. In ancient lore it is knows as "Hanana," or "The Event."
The Hanana is a consciousness correction by way of source pulse. This pulse is re-calibrating and tuning our nervous system, our DNA, and the way our spirit interacts with the world of material.
Of all our precious tools, it is the human emotion which will assist in this transition and into ultimate transcendence. Fern Medicine is all about emotional intelligence. This intelligence is not so much intellectual as it is a Knowing . The knowing is THE material and essence of ALOHA MĀ, self-reflective love. This is a very profound moment for all of us!
Fern Medicine by way of Mū lineage has volunteered to assist us now. Lets show up and receive!
Mystic 'Ulu is an incredibly ancient form of breath and movement which has existed in the Northern Pacific for millenia and pre-dates Hawaiian Lua and Hula. 'Ulu is a practice used by the primary civilizations of Mū (and Lemuria) to adjust spirit into physical matter, harmonizing the two entities. All codes and memory are stored in the DNA. This is the template and the blue-print of the Human Event. In order for us to re-affirm our Kiakahi (purpose and meaning) we are invited to read our DNA, by way of our nervous system, as if it were braille. Primordial cultures of our past did not leave written history because all things were stored in the DNA. This ensured no distortion and no mistranslations.
This special event workshop will feature Ke'oni Hanalei, founder of Pōhala Botanicals, alchemist, cultural practitioner, and Mū historian.
Workshop will be held in Makawao, Maui, at the Makawao Union Church Community Hall.